XITE College
, a pioneering institution in Jamshedpur, is all set to host a transformative 2-day National Conference on "Entrepreneurship in India – Issues and Challenges" on September 30th and October 1st, 2023. This marks the second National Conference organized by the college, and it promises to be an event of great significance.
A Confluence of Visionaries:

Sponsored by
ICSSR-ERC
, this conference aims to converge a diverse spectrum of individuals – from budding entrepreneurs to seasoned professionals, funding agencies, esteemed academicians, and industry stalwarts. This vibrant gathering seeks to foster a collective understanding of the current challenges faced by entrepreneurs in India and explore strategies to fuel their growth and success.
A Resounding Response:
The response to this conference has been overwhelming. Renowned academicians and scholars from across the nation are poised to present their research findings, creating a dynamic environment for learning and idea exchange. What's more, this event offers both offline and online modes, ensuring accessibility to a wide audience.
Distinguished Guests:
Sri Manoj Kumar, Vice-Chancellor of
Kolhan University
, Chaibasa, will grace the occasion as the Chief Guest. Dr. Jayant Shekhar, Registrar of Kolhan University, Chaibasa, will be the Guest of Honour, adding to the prestige of the event. Dr. Indrajit Mukherjee, a distinguished Professor from
XLRI Jamshedpur
, will deliver the keynote speech, setting the tone for insightful discussions.
Expert Guidance:
Sessions during the conference will be chaired by senior faculty members from colleges in Jamshedpur and Kolkata, ensuring a well-rounded perspective on entrepreneurship challenges. Additionally, expert academicians from various institutions in Jamshedpur and Chaibasa form the Core Advisory Committee and General Advisory Body, providing valuable guidance.
Publishing Knowledge:
The conference will witness the launch of Conference Proceedings with an ISBN number during the inaugural ceremony. This publication will serve as a valuable resource for participants, encompassing the wealth of knowledge shared throughout the event.
Join Us Virtually:
The two-day event will take place at the XITE Campus in Gamharia, offering a stimulating environment for intellectual discourse. For those unable to attend in person, the inaugural ceremony will be live-streamed, ensuring that online participants can engage virtually.
XITE College's commitment to fostering entrepreneurship in India is evident through this conference. Stay tuned for insights, ideas, and innovation as we collectively work towards a brighter entrepreneurial future.
Don't miss out on this remarkable event – be a part of the conversation on entrepreneurship in India!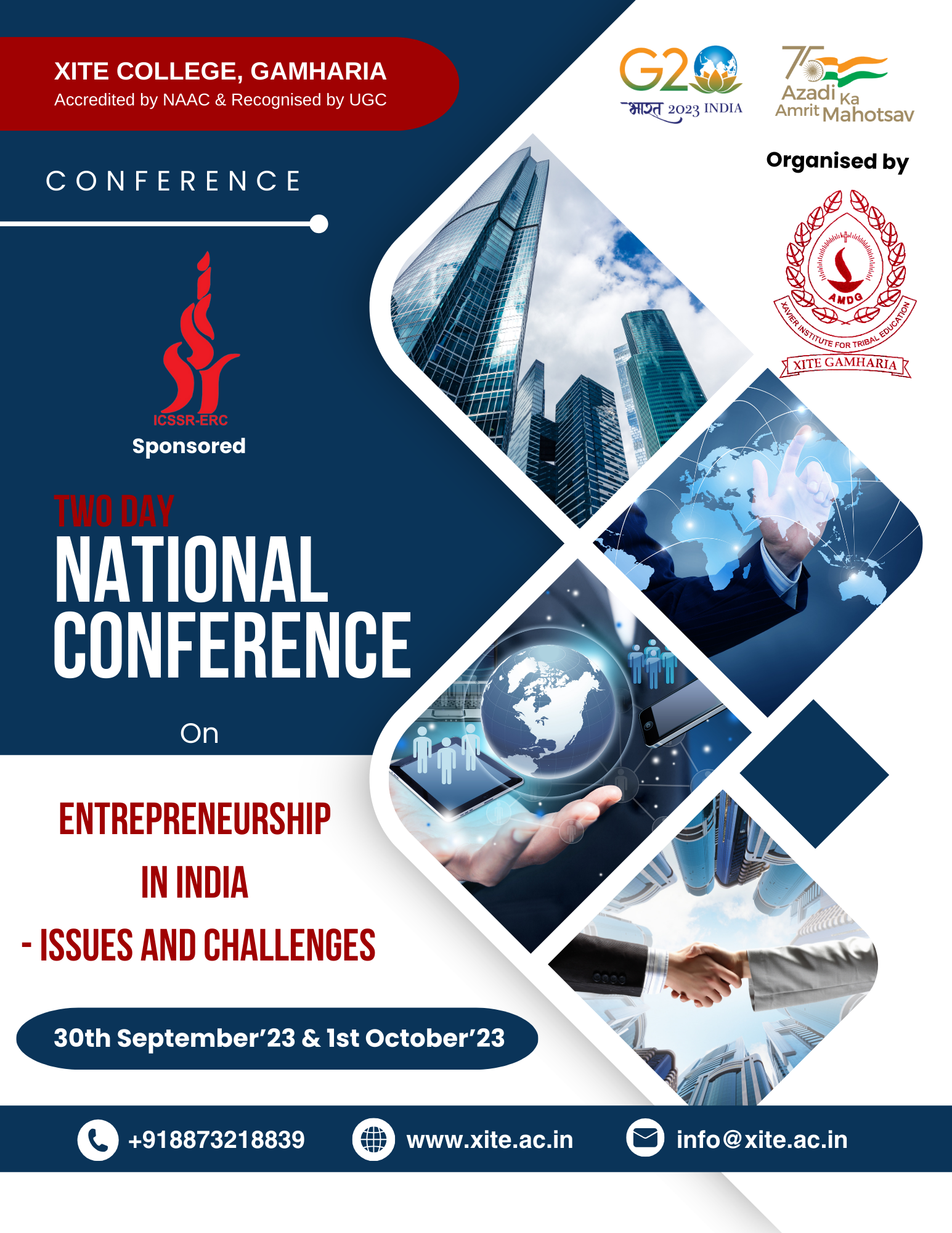 For more updates, follow us on:
Press Coverage:
Udit Vani | The Education Times | Business News This Week | Media Express | Hello Kotpad | Lagatar24 | The Avenue Mail | Sharp Bharat |