The students of XITE College outperformed representatives of all the other institutions in the Jamshedpur Management Association (JMA) Olympiad 2022-23. As a result XITE College was awarded the Overall Champion and Srishti Mundu who won two awards as Ms. Young Business Leader of JMA Olympiad 2022-23. Special thanks to Prof. Sushmita who mentored and accompanied them.
Congratulations to Individuals who won the awards
Poster Making Competition on the theme Climate Change & Industry's Response First Price (Pradeep Mahato & Amil Lakra); on Impact on Our Lives First Price (Himali & Savitri Deogam) and Second Price: (Srishti Mundu & Anshu Tirky); on Business Model Competition (Product) Second Price (Srishti Mundu & Nikita Toppo); Case Study Competition (Service) Second Price (Abhishek Kr. Shah & Ansh) and Third Price (Shivam Agarwal & Aman Dwivedi); Case Study Competition (Technology) Third Price (Ms. Angelina Rock).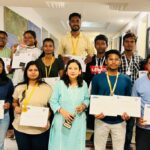 For more updates, follow us on:
linkedin.com/school/xite-college/  |